Greetings from San Francisco // Moving Announcements
The other day, we found ourselves living under this roof for over a month and we looked at each other and simultaneously thought - moving announcements! We did. (How did we let that happen? I've had ideas for these in my head well before we moved continents!) You can't exactly have moving announcements multiple months after you've moved. This is a known fact. So, with the plural month looming, we needed something quick + efficient. We needed Greetings from San Francisco moving announcements and stat.Cue postcards. Postcards are like the microwave of the paper world. Order them preprinted, throw a stamp and to address on it, and zip it in the mail.We're big fans of the vintage postcard look. Back when we were filling our wedding welcome bag, we used this vintage Greetings from Dallas postcard. This made the vintage Greetings from San Francisco one an obvious choice. Along with the faded bridge, which arrived more fuzzy than I expected, but I squinted my eyes and sent it to our old soul friends who would appreciate it most. The history buffs on our list would receive the vintage map.The most convenient part was the option to have our design printed on the back side. This saved us handwriting them all or sending them to another printer. I created the graphic I wanted to use for our address and uploaded it to the back of all three designs.I stamped the cards equally because I like to imagine Janis and Jimi would have liked it this way. Can you even imagine San Francisco in the 60's? A time when those two kids rocked the scene. I missed my time, in a big way.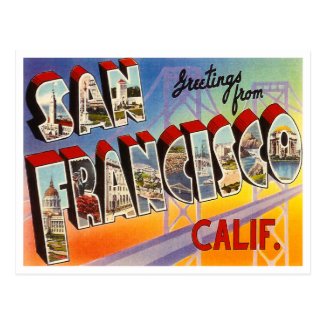 Greetings from San Francisco!
(a look at our Brussels announcement
here
)