Galentine's Day Soirée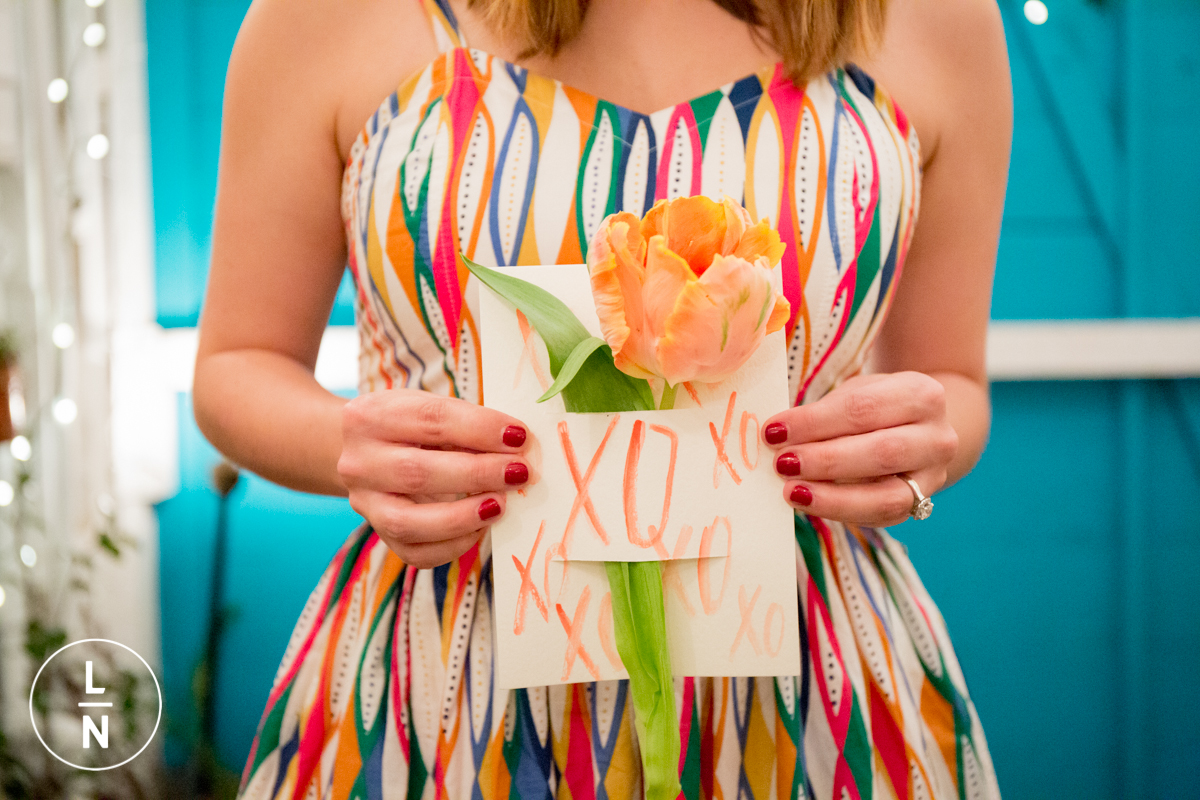 photo by Lanny | Lanny Nguyen Photography
As Leslie Knope puts it, Galentine's Day is 'only the best day of the year!' It's ladies celebratin' ladies. I'm inclined to agree, Leslie, it should be a national holiday. Add a French flair and a gathering of gorgeous gals to that and you'll have my last Saturday evening, Galentine's Day Soirée.Under the dimmed lights and amidst the loveliest scent of fresh flowers, we donned our heels and clinked our glasses. Our party dresses speckled the room with a color palette that rivaled the floral stems decorating the venue. We caught up with old friends and made some new ones. It was hard to choose my favorite snaps from the party as every single one of them has me swooning over the memory of the evening. I hope you enjoy this glimpse as it's brimming with inspiration for your own lovely soirée!
The event was held at Ampersand floral shop. Full stop. Ampersand, be still my heart. This vintage garage-turned-shabby-chic-painted flower shop sits right in the heart of the Mission, the funkiest neighborhood in San Francisco. Benjamin and Emerson opened their labor of love in the summer of 2014. The boys are total dream boats and if every love filled the room as abounding as theirs does, we'd all be humming a love song. The white-washed walls and the signature turquoise door held background to the only decor needed - their pretty, pretty stems. The contrast of colors created a perfect scene for the girly gathering.
Ampersand80 Albion StreetSan Francisco
The guest list included travel, food, craft, and lifestyle bloggers from around the Bay Area. I printed out photos of Ampersand's insta photos and crafted watercolor floral Valentines. Whole Foods graciously provided the bites and beverages. I've become quite fond of our time standing in front of the bubbly display choosing our Prosecco for various gatherings. Although this time, I went for the Champagne..it was a soirée, after all.
DIY Champagne Bar ingredients:
Champagne (may substitute Prosecco, Cava, etc. if not a soirée)
Juices // pomegranate, pineapple coconut, orange, etc.
Flavorings // simple syrup, chambord, etc.
Fresh berries
Major shout out to my spirit lady. I couldn't have done any of this without the help of my girl Carla. That little lady comes with an endless amount of encouragement and her enthusiasm is this incredible and contagious gift! Plus, she rocks a glitter heart hairpin so hard.
And lest we all forget.. Remember, ladies, how I gave that really profound, more than five words, and definitely no awkwardness involved toast? Great!Santé!
We had an extra special treat - Natalia is in town from Ukraine and baked homemade macarons for us. I repeat - HOMEMADE MACARONS, people. How lucky are we?! I'm going on record (it's official if it's on the internet type thing) to say of all the macarons in all the countries, these have won my heart. In less dramatic and more important news, they were the star of the party!
Speaking of treats! At the end of the night, we passed out favor bags to all of the guests. Favor bags filled with gems from around the Bay Area! It was important to me to curate a favor bag that wasn't only a sweet gift for Valentine's Day, but that highlighted small local brands who deserve some extra attention. I loved seeing their faces as the girls received their gifts!
I'll let Nancy sum it up for you..
My outfit deets :: dress | necklace
With the Champagne flowing and the tune of girls night in the background (you can find the cliff notes version here), it was the dreamiest of evenings.
Happy Valentine's Day, friends! xxo.
All photos by Lanny Nguyen Photography
------------------------------------------
A huge round of THANK YOUs to our sponsors:
Ampersand // Lanny Nguyen // Whole Foods // Rickshaw Bags
Woods Apothecary // Missive // Redwood Stoneworks // Taryn St. Michele
Myy Jewelry // Nancy LaBerge Muren // Maika // Alyssa and Carla // An Astrid Endeavor
Numi Tea // Chick Design Boutique // Ghirardelli // Lovely Letters // Ink Panda // Papabubble
------------------------------------------
More Galentine's Day Soirée features:Catherine at Something CatchyTiffany at Sunshine Daydream PhotographySuki at Super Duper Fantastic#GalentinesDaySoiree on Instagram
---------------------------------------------------------------------------------------
And! One lucky reader will get their own favor bag filled with goodies from our generous sponsors!
The prize:
San Francisco canvas bag // All-natural yoga mat spray // Letterpress card // Geometric planter // Gold foiled lips print // Arrow necklace // Watercolor print & greeting card // Canvas bucket // Hand-painted wooden utensils // Wall decals // Heart ornaments // Chocolate tea // Chocolates // Temp Tattoos // Candies
BON CHANCE!