Christmas Time in Brussels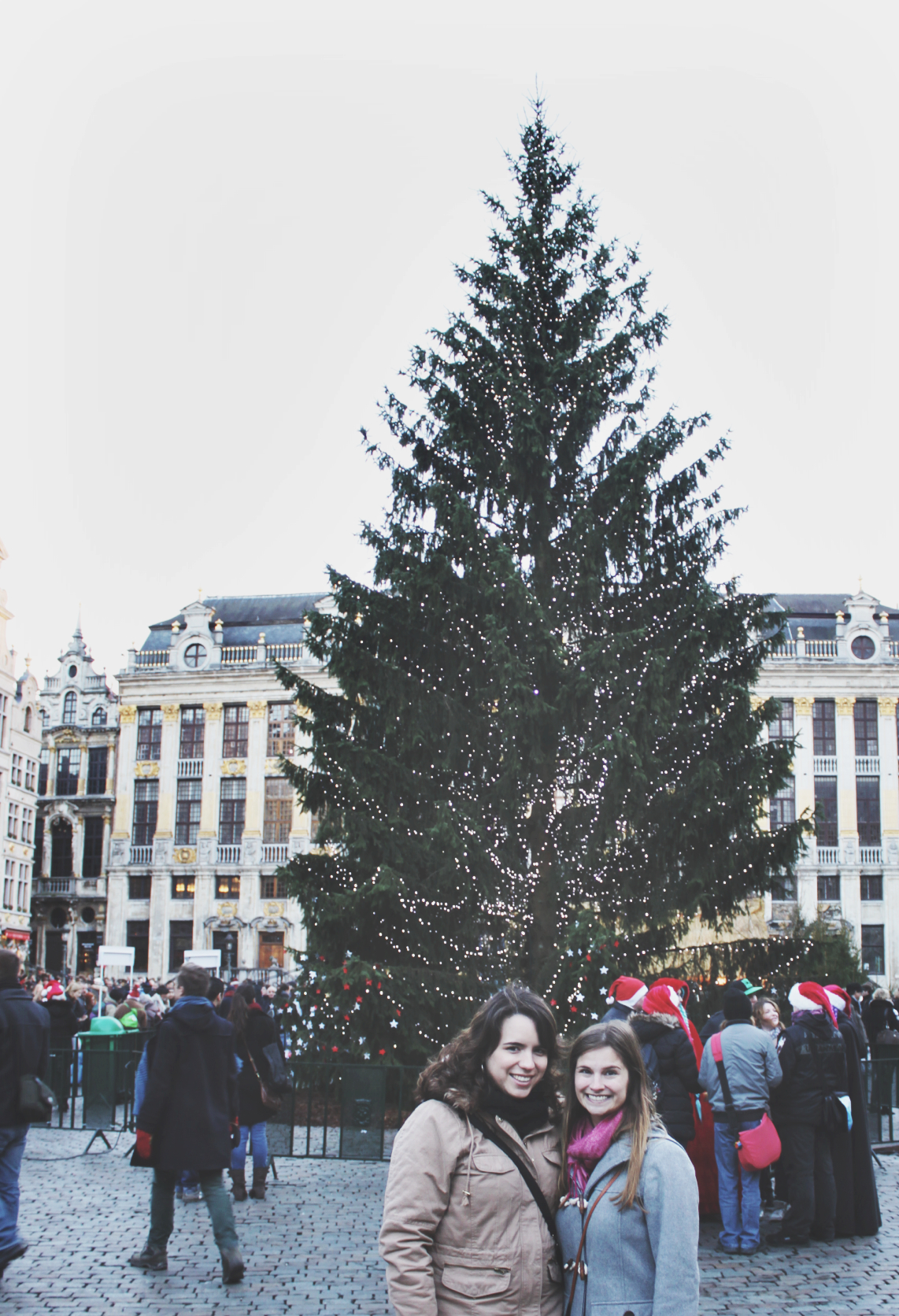 Our friend is a veteran of the city. So when Nayra flew in from Basel last Friday, we made a weekend out of recapping the old stomping grounds and, unbeknownst to J at the time of the 'Nayra's coming to toooown!!!' announcement, celebrating his birthday. I feel like a broken record, but I really couldn't have pulled off this weekend without her. Sappy, I know, but so very true. She was the perfect excuse to hide my party excitement and hug the nerves out of me and pick out my party dress (you know how that is...always an ordeal) and find good ice-battle viewing spots at the Christmas Market and manage to obtain J's favorite beer glass AND help me discover what J's favorite beer actually is...I'm an attentive wife, obviously.
We had quite a few thoughts on the Grand Place 2013 Christmas tree situation. Do you remember last year's? How could you not. After all of the negative hype, I feel like this year Brussels took the stance of 'you wanted a traditional tree, here's your traditional tree.' And then, in true Belgian fashion, was the last to the Christmas tree farm and no one showed up to work, so they settled with a tree with half its droopy branches that couldn't hold ornaments. And that's all I'll say on the topic - at least in here..let's laugh about it more in the comments..I know you Belgians have thoughts on the matter..And that was actually a warm welcome back to the city for Nayra! Oh, Brussels...
Now that I'm reliving it, we had our fair share of sparkling wines.Sunday was a day for the Flagey Market. It's actually the first time we've made it here together. That's weird. We definitely moved to the city over a year ago and declared right away that 'this will be where we buy our flowers! and this will be where we buy our olives!' ha! (For the record, the peony stand in Place Jourdan is where it's at come Spring.)
And this is how sweet our friend is --> She knows how much I covet her camera, so she packed that big, beautiful sucker in her carry-on and surprised me with it! So, if you saw me outside of the flat at any point this weekend, you'd have seen one giddy tourist of an over-snapper. That would explain why the quality of photos shot up in the past two posts. I'm like an official blogger or something. Sadly, we'll be back to regularly scheduled iPhone pics soon enough. But in the meantime, isn't she pretty?!Thank you for being such a good friend, Nayra! I still can't believe we pulled it off! *high-five*